Business Operations Diagnostic
Sign up for our weekly newsletter for updates, articles and free giveaways of case studies, templates and training materials every issue! Simply enter your e-mail on the right
More and more small and medium size businesses are benefitting from a business operations diagnostic - a professional review of their core activities and some expert recommendations on how to improve performance and quality and reduce costs and delivery lead time.
 Unfortunately, these things have been perceived to be out of reach for most businesses as the consultancy fees which usually accompany this kind of detailed diagnostic are considered prohibitive for all but a few of the 'Blue Chip' companies. This is no longer the case.
We offer several different solutions for all shape and size of business (We can often tailor the solution to fit your particular business, as we've worked with most shapes and sizes and delivered sizeable benefits in all of them)

The videos on this page will help you carry out your own business diagnostic, which is the first and least expensive option. This option does require a degree of knowledge on your part and the self discipline and perseverance to see it through. (As well as being able to look at your business with a completely impartial set of eyes).
The second option is that one of our team of highly experienced Business Improvement and Turnaround Specialists visits your business and carries out a detailed Business Diagnostic, providing you with a detailed plan of actions required for you to dramatically increase your bottom line.
This option would provide you with the turnaround plan, typically within a week of carrying out the Diagnostic but would require a degree of business improvement knowledge along with your determination to religiously put these actions into place. (Typical Return on investment for this option - max 3 months).
Option 3 is the Business Diagnostic followed by ongoing coaching support (1-2 days per month with optional training for your staff). This option requires less knowledge and self discipline on your part, as we'll keep you on track and train your people.
This option would have a typical ROI of 3-6 months but would be more likely to be sustainable in the long term due to the knowledge transfer and ongoing coaching support.
Option 4 is the Business Diagnostic, followed by full coaching support (Full time Business Turnaround experts on site).
This option is the most expensive but the surest bet for leaving in place a fully sustainable legacy and a healthy, solvent business with a typical ROI of 6-12 months.
Many local authorities offer training and consultancy grants for businesses, which are significantly under-utilised and we can work with you to help with completion of the application for these.
In certain circumstances, we would consider profit share / Joint Venture arrangements to prevent further cash flow issues.

We are a team of highly experienced Business Improvement and Turnaround Specialists from across the UK  and Europe that have been providing consultancy, coaching and mentoring services to many leading operations across the world for over twenty years, both as independent suppliers and as sub-contractors to bigger consultancy firms who required our specific expertise and in the process, saved these companies tens of millions of pounds in that period.

Regardless of the industry or sector, one key activity is ALWAYS used as the starting point – The Business Operations Diagnostic. This critical activity gives insight into key business issues and areas for improvement and forms the basis of all improvement activity that follows.
 It goes without saying that without this activity, no improvements could be made, no benefits would be delivered and there would be no change to the bottom line (Which is usually the be all and end all for most big companies). 
 Unfortunately for most smaller businesses, this activity only comes linked to a larger piece of consultancy work and forms the basis for benefit estimations and planning, as well as being used to sell additional services into the client business but we've decided to change the rules around this and offer this 'Business Operations Diagnostic' service as a standalone offering, at a price that every business can afford (In truth, it would be hard to justify not taking up this service, as you will likely recoup double the cost within 3 months, once the recommendations are implemented).

What Exactly Would Your Business Get From a Business Operations Diagnostic?
1.      Overview Operational 'Health Check'
Gives you an overview of how your Operation rates on the key components

2.      Detailed breakdown of the Operational 'Health Check'
Identifying key areas requiring attention across a much more detailed breakdown of categories. (This helps form the basis for identifying the potential solutions to some of your most pressing operational issues)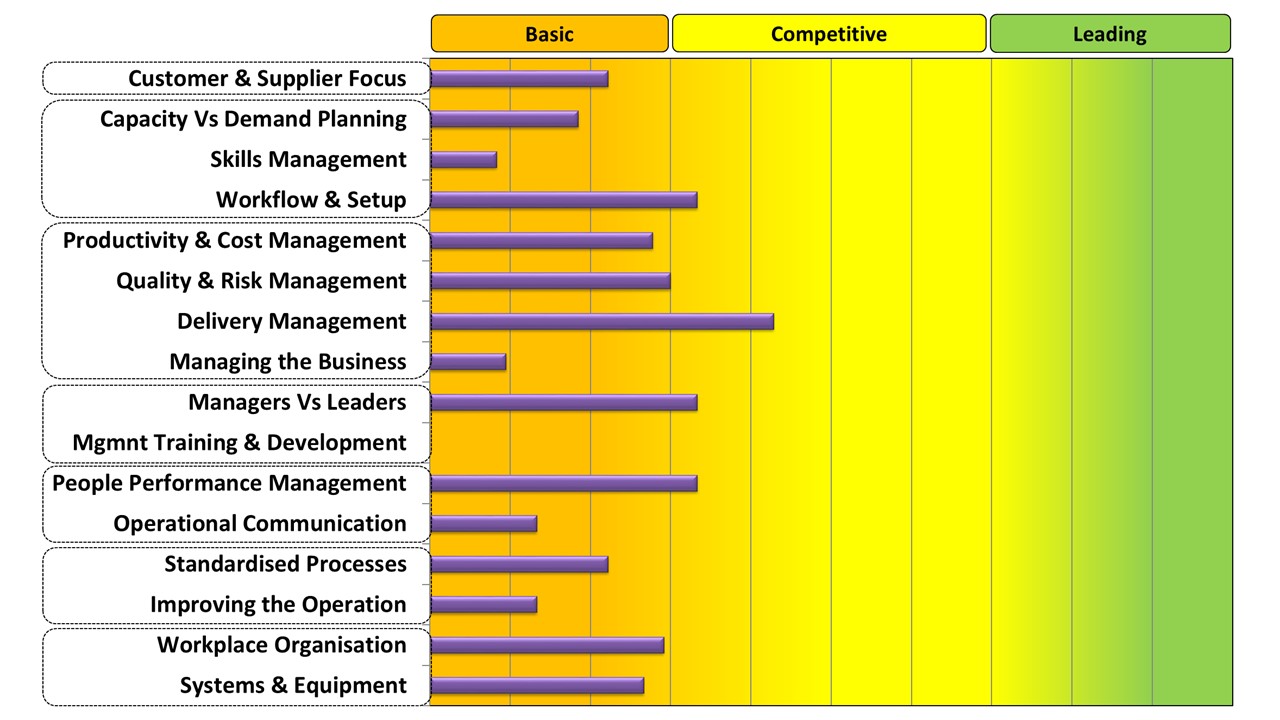 3.      Overview of key operational Strengths and Identified Issues
This will give you clarity around what you are doing well and should continue doing (Many businesses will mistakenly stop doing some of their successful actions when trying to solve operational problems in an unstructured manner) and also identify the critical areas that require immediate remedial actions
4.      Recommended Actions
This is what you're paying for!
From the identified issues, we will carry out a root cause analysis and identify immediate, short and medium-term actions that you can implement to resolve the key issues that are preventing your operation from flourishing.
 But we won't just tell you what needs doing, we'll advise you HOW to carry these out based on many years of experience

5.      Prioritisation and Planning
 We will then work with you and your specific business knowledge to prioritise and plan the timescales, based on your individual business situation and constraints

What Kind of Business Operation would benefit from a Business Operations Diagnostic?
Small to Medium sized businesses (10 to 500 staff) that are experiencing issues in the following areas:
  o     Problems with product Quality
  o     On time delivery to customers
  o     Cost base not sustainable
  o     Productivity below required level (This is always the case)
  o     Staff Morale
  o     Space and stock levels
 Small to medium sized departments within larger corporations with limited budgets for improvement activities
  o   May have inexperienced internal improvement team that needs initial direction
  o   Knows that they have cost reduction / performance improvement targets but don't know what to do or how to do it
Venture Capitalists / Investment Groups
  o   Require initial review of viability and potential improvement possibilities prior to investment
What is the Cost of a Business Operations Diagnostic and How Long Does It Take to complete?
The length of a Business Operations Diagnostic is dependent upon the size and complexity of the individual business and no two are exactly the same but typically they can be done anywhere between 2 and 10 days.
The cost, again is completely dependent upon size and complexity of the business and will be determined by number of days and number of business experts required.
We can usually tailor the service to your individual budget and needs.

Remember to check with your local Government Business Development group, as grants may be available to cover a large proportion of the cost.

How Do I Schedule a Business Operations Diagnostic?
Not all businesses or operations will be suitable for this service, so to allow us to assess whether we will be able to help you, we will require some initial details about your business (Simply complete the form below and hit submit)
 We will review the information and contact you within 48 hours to discuss next steps.

Case Studies from businesses we've worked with
Housing Association Contact Centre