Toyota Production System
The Toyota Production System -
THE T.P.S. THEORY IS EASY TO LEARN
1) Philosophy
2) Identify Muda
3) Ability to draw out ideas
4) Ability to implement solutions
5) The work force are willing to accept change
6) A Kaizen spirit from top managers
T.P.S. is difficult to implement
THE SEVEN CLASSES OF MUDA
1) MUDA in excess production
2) MUDA in waiting
3) MUDA in conveyance
4) MUDA in processing
5) MUDA in inventory
6) MUDA in motion
7) MUDA in producing failures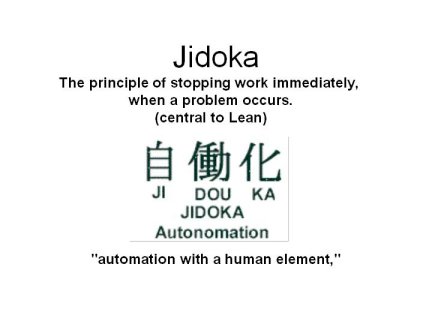 IMPROVING PRODUCTIVITY
Material Productivity
Is controlled by product design Can be viewed by competitors through buying this product
Machine Productivity Is determined by Process Design Can be understood by talking to equipment suppliers.
Manpower Productivity Is controlled by the production department Cannot be learned by competitors as it contained within the company. Costs will depend on production method
Typically Manpower Productivity leads to world class competitiveness.
JIT - What is just in time ?
Manufacturing and conveying only what is needed when it is needed, in just the amount needed.
THREE PRINCIPLES
1. Continuous Flow Processing - eliminating waiting time
2. Takt Time daily operating time @ 100% efficiency / daily demand
HEIJUNKA (levelled production) ensures a smooth production plan in terms of variety and volumes over the daily operating time.
3. Pull System - ensuring right parts available at right time.
MECHANISATION
TWO TYPES
1) SHOURYOKUKA Reduces force in order to eliminate overloading / lifting
2) SHOUJINKA Reduces manual work content to reduce number of operators.
JIDOKA - Means automation with human brain (senses) sometimes called autonomation.
It is the ability of a process or machine to be stopped in the event of such problems as equipment malfunction quality defects or work delay.
It eliminates the need for the operator to watch over the process.
These are the key elements of the Toyota Production System