Lean Transformation & Performance Impovement Manager
by Joseph B Johnson
(Newark, DE, USA)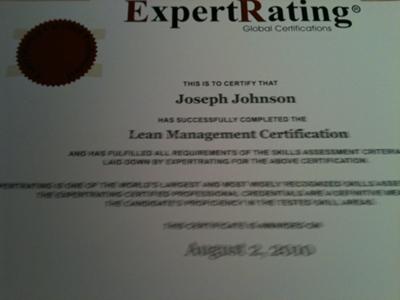 Lean Certification
Senior Lean Transformation and Performance Improvement Manager who brings to the table know-how implementing world class business strategies, leading turnaround efforts, and strengthening financial results by eliminating wasteful workflow activities and increasing cash flows in multi-site, multinational operations. Deeply accomplished in increasing effectiveness by eliminating inefficient practices. Toolkit includes: Strong desktop computing skills in Word, Excel, Access, PowerPoint, Statistical software, Visual Process Management, Project plus hands-on exposure to ISO, SOP, TQM, JIT, ERP systems, Lean Enterprise and Six Sigma.

Proven change agent and effective leader during periods of organizational upheaval and transition. Special talent for gaining employee involvement and motivating stake holders to engage and work cohesively in operation improvement and quality objectives. Known particularly for commitment to gateway communication between management and staff in diverse departments.

VALUE OFFERED
● Method/Quality Improvement ● Integrate Business Systems that reduce cost and streamline processes
● Lean Business Strategy ●Workflow waste elimination & Cash flow enhancement
● Business Reengineering ● Value Work flow activity Mapping/future state actions
●Teaching Lean Business Tools ●Increase current value and generate millions in sustainable cash savings

EDUCATION:

Walden University, Baltimore, MD
Currently enrolled in the M.S. in Management-General degree program

DeVRY University, Ft. Washington, PA
Bachelor of Science in Technical Management
Concentration in Operations Management

CERTIFICATIONS:

● Lean Management ● Master Black Belt

PROFESSIONAL AFFILIATIONS:

●Institute for Operational Excellence ● APICS
●Lean Enterprise Institute ●Institute for Lean Systems
●Lean Benchmarking Association ● Association for Manufacturing Excellence

Readiness to travel, both in the U.S and internationally, valid passport. Able to pay relocation.