Lean Manufacturing Success
The pre requisites explainedStability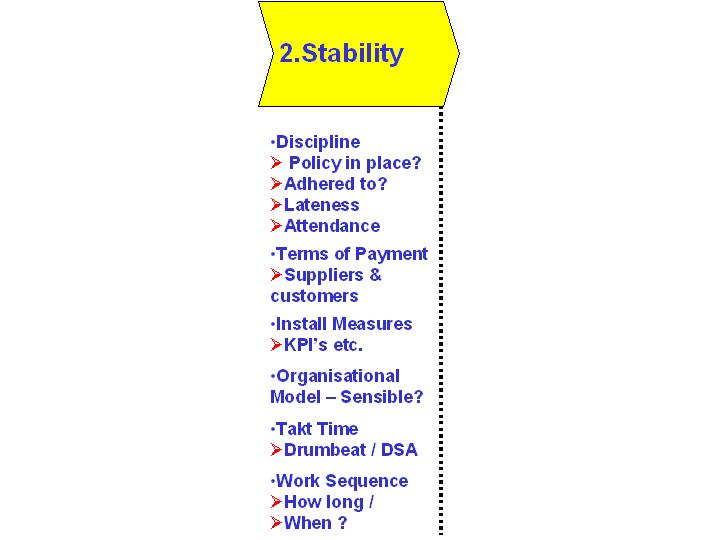 Make the foundation strong
Lean manufacturing success is TOTALLY dependant upon implementing lean on a solid foundation.
Business stability is essential - The basics must be in place.
To ensure lean manufacturing success in any business, in any industry what are the things that need to be present ?
Discipline
1. Get the people there
2. Get the people there on time
3. Get the people doing what they should be doing when they are there
This will be done through standard disciplinary procedures, sickness and absence procedures and strong consequential management.
In simple terms the policies must be in place and adhered to in order to act as enablers for any business improvement.
Terms of Payment
A simple but very effective model is used here to ensure your cash flow remains as fluid as possible.
Install Measures
What are your Key Performance Indicators for your business ? How do you know for certain whether you are winning or losing ? "If you can measure it, you can improve it"
A basic Performance Management System (PMS) is all that is required. This can be built upon later when stability has been attained.
Organizational Model
Lean manufacturing success relies upon a good communication structure and a solid, well structured organizational model. This includes sensible reporting lines and correct leader to worker ratio's.
Takt Time
One of the cornerstones of any lean manufacturing success is working to customer demand, or working to Takt.
Takt is a German word, it describes the beat of the conductor's baton.
It is the principle that all activity within a business is sychronised by a pulse, set by the customer demand.
Takt time relates the customer demand to the time available.
More information on the remainder of the "seven wastes" is available in the lean manufacturing definitions section of this site.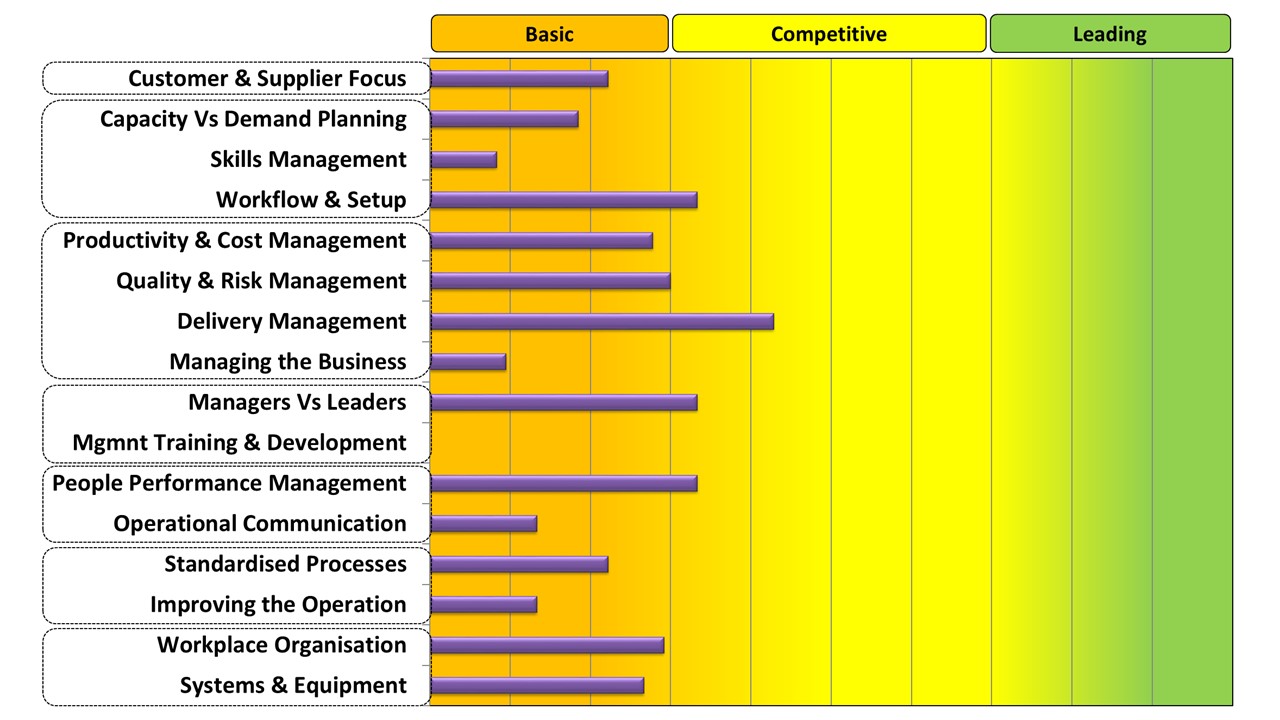 Takt = Production Time Available / Customer Demand
Time is deducted for:
Lunch and tea breaks
Team briefing times
TPM breaks
Clean down time
E.g 8hrs x 60 = 480 minutes
Time Available = 480 – 20 mins breaks – 10 mins TPM = 450mins
If the customer demand is 500 units per week;
Demand = 500 / 5 = 100 products a day
Takt Time = Time Available / Customer Demand
= 450 mins / 100
= 4.5 mins or 270 secs
In the example shown above, a finished product must come off the end of the line every 4.5 mins
This is also sometimes known as the production "drumbeat"
This will allow the DSA (Delivery schedule adherence) to be calculated and give you a clear indication of how close you are performing to customer demand.
Work Sequence
With your Takt time established you can arrange your sub products and operations into the most logical sequence with some measures in place to ensure everyone knows what is expected from them and in what time.