Business Strategy
The first step of producing your business strategy is to lay down a clear business purpose which can be communicated to the whole workforce.
A series of visionary, yet specific, purpose statements can help guide all employees during any type of change process.
The development of a business purpose statement is critical to providing human energy and vitality to the whole change program.
Everyone needs a purpose to believe in
This single or series of purpose statements could also be used to define clear operating principles, should you enter into a "Gateway" or "Partnership" process with the workforce and / or unions.
Future State Value Stream Map
This will provide the visual vision for the future, showing exactly how material and information will flow through your organization.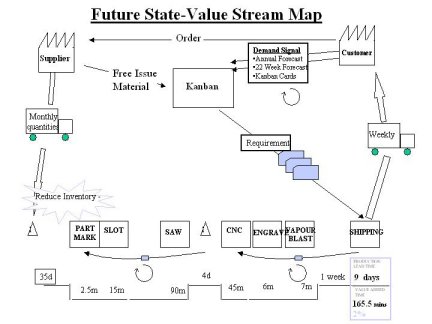 Route Map & Tactical Plans
These are your working tools, the detailed plans that will turn the Future State Map into a reality