Lean Six Sigma is just a name - The Bottom Line is where true Improvement Effectiveness is measured
"Whatever LSS Certification, Coaching, Consultancy or improvement information you require, we will do everything in our power to provide it"
"Lean Six Sigma, Lean or Six Sigma Success depends on much more than just Tools"
Are you are a small company with a limited budget looking for information or advice, or maybe wanting to get hold of some basic training material to roll out yourself in areas you have identified as needing some attention ? Whatever your needs, we will be able to help. Even if it's just some advice you need!
Have a look at our latest service offering - The 'Business Operations Diagnostic'
This service really does put the 'Big Boys' Consultancy advice within reach of ALL businesses.

Why is it that many change programs falter or slow up after some initial success?
On the following pages we will show you exactly, step by step how to ensure this does not happen to your business when you embark upon the improvement or change journey.
One of the main errors in any change program is the assumption that people need very little training, particularly Senior Management.
If you want to really ensure your program gets off the ground and sticks - Get your senior management enrolled on a Lean Six Sigma Certification course as soon as you possibly can. This will ensure that the behaviours of the Senior Team will align with the direction of the improvement efforts. (After all, it is ALWAYS the behaviour of the senior management that gets you into the mess in the first place! - and I challenge anyone to disprove that statement !)
Implementing lean manufacturing or Six sigma or TQM or BPR or ......or ..... should be a relatively straight forward process for any business, the processes involved aren't difficult or complex and most of them are based upon common sense.
If you speak to any consultant or black belt they will tell you exactly the steps needed to implement the changes, in the order required.
Follow these steps and you have a changed organisation ............ Don't you ?
One vital flaw in the equation - an unknown variable - PEOPLE -
Or to be more precise, the 8th Waste - The under Utilisation of People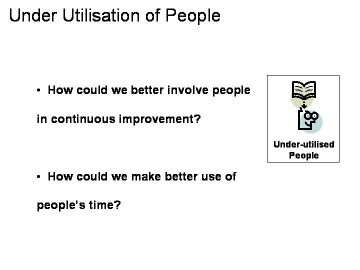 People touch every aspect of your business, from the CEO right down to the people who actually do the work.
We have factored in this variable from many years of hard won experience and knowledge.
Using lean six sigma improvement tools as a sticking plaster to try and cover a gaping wound is another common mistake made by management teams.
Business basics must be in place before lean principles or any other change programs can be successfully introduced - Discipline, timekeeping, absence, organisation structure etc. etc.
An organisation is a shadow of it's leader.
If the leader is not himself willing to change the way he works, the whole change program could be doomed before it even gets off the ground.
Change must be lead, by example, from the top.
Once the foundation has been laid and the organisation has in place some stability, lean six sigma can be introduced.
Our mission here at "BeyondLean Ltd." is a simple one. We aim to provide YOU with the tools and knowledge to engender change in YOUR business........In short we'll help you to help yourself.
We have been through the steepest of learning curves and taken lessons learned from mistakes we've made over many years in consultancy and management to develop a system that will work for ANY business.
The result is the "Standard Business Roadmap"(© Copyright)
A full breakdown of this is contained in our Lean Six Sigma Black Belt Training & Certification course, details of which are available at Online Black Belt Training & Certification
Here is an overview of the stages you will go through in order to truly achieve "Change"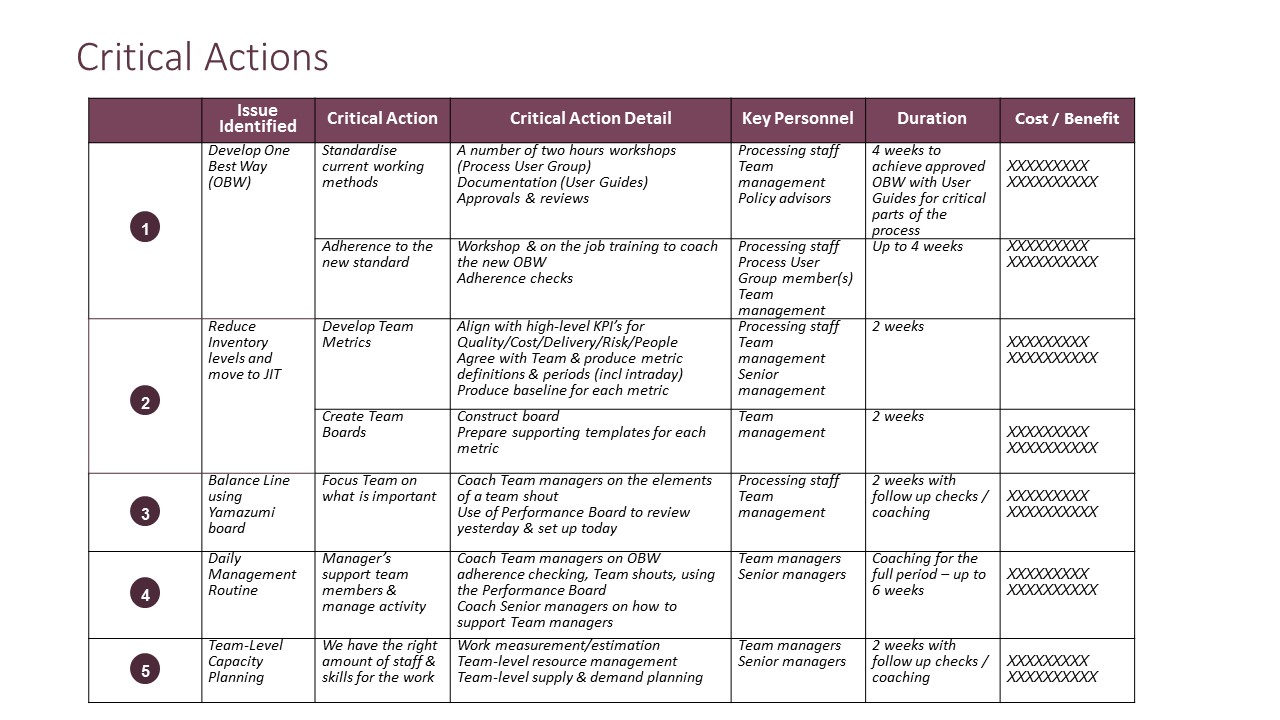 The acid test for ANY system is;
"Does it work ?"
This system is no different.
Results are today's business currency.
Without results no system is worth the paper it's written on.
This system is not based on theory or strategic waffle, it's based on hard won experience and developed by people who have used the tools contained within it to get measurable results. Time after time.
Follow the process, step by step, in the order it is laid out and you will get results.
GUARANTEED
This system can be used for areas from an individual department or small business right up to major corporations. The larger the business, the longer it will take to truly embed lean six sigma principles, but when they're implemented, they will stick.
Theories and complex models may look impressive in boardroom presentations, but only action gets results.
Please Feel free to contact us with any questions you may have on Lean Six Sigma Training, Consultancy or Implementation